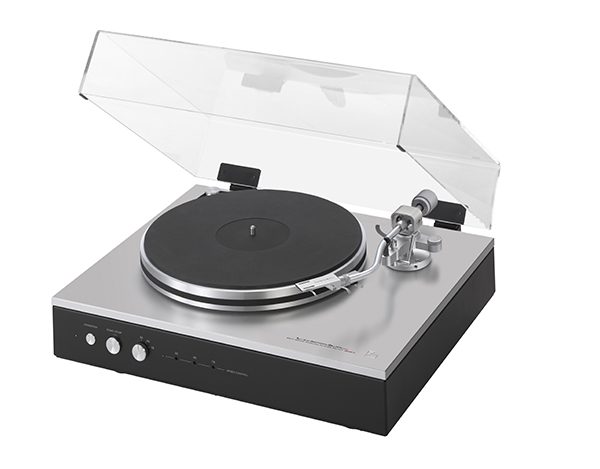 Luxman introduces the upgraded PD-151 MkII turntable and all-new L-507Z Class AB integrated amplifier
Luxman just announced two new products that we think are very interesting – and we think you will too. First, Luxman is replacing its acclaimed PD-151A turntable with the improved PD-151 MkII turntable. The PD-151 MkII features a new proprietary tonearm called the LTA-309, which incorporates knife-edge bearing technology originally developed by SAEC, the well-known Japanese brand. The MSRP for the PD-151 MkII is $6,490.
The PD-151 MkII carries on the proprietary power supply and speed control technology built into the previous model, the aforementioned PD-151A. The LTA-309 tonearm, meanwhile, features static balance, a machined aluminum arm base, and adjustable arm height to accommodate different pickups.
Other key features of the PD-151 MkII – which plays 33 1/3, 45 and 78 rpm LPs – include Luxman's sine wave PWM power supply; a low-speed, high-torque DC motor built on a high-precision cast alloy housing; speed is maintained by Luxman's Proportional-Integral-Derivative (PID) feedback control loop; 4.0 kg heavy, diamond-cut plate; 16 mm stainless steel shaft with lower thrust bearing, lubricated with polyetheretherketone (PEEK); a brass radial bearing filled with organic molybdenum oil to support the upper shaft; a high quality AC input to support heavy accessory power cords; a 10mm thick aluminum top plate; and rubber-polymer cushioning.
Included accessories and other elements of this new PD-151 MkII table are an anti-resonant rubber hybrid plate coupling mat; Isolator feet with special damping material and 5mm independent height adjustment; and the OPPD-DSC151 4mm clear acrylic dust cover with cam/spring support hinges.
The first entry in Luxman's Z series, the L-507Z class AB integrated amplifier features Luxman's original LIFES1.0 distortion-canceling feedback engine. (The acronym LIFES stands for Luxman Integrated Feedback Engine System.) LIFES1.0, which debuted earlier this year for the company's M-10X power amplifier, is designed to reduce distortion while controlling feedback inaccuracy. The L-507Z integrated amplifier has an MSRP of $8,995.
The L-507Z – which weighs 25.4 kg – has VU meters on the front; a 7-segment LED display for easier-to-read volume levels; a 4.4mm five-wire Pentaconn headphone jack for a balanced output, complementing the standard 6.3mm jack; 12V trigger on rear panel for compatible home automation systems; thick aluminum chassis plates; cast iron feet with gradient density; and a wireless remote control that also operates digital Luxman players released after 1996.
Other key L-507Z specs include 110W + 110W RMS, Class AB into 8 ohm loads; 210W + 210W RMS, Class AB into 4 ohm loads; highly regulated power supply with EI transformer and an array of eight 10,000 µF filter capacitors; and an electronically controlled attenuator LECUA1000 with 88 discrete stages.
More information on both the PD-151 MkII and L-507Z and where to get yours can be found here.