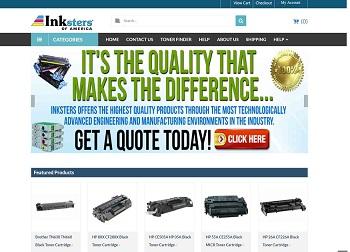 Laser and MICR Toner Cartridges eStore 17th Anniversary Announced Savings For EVERYONE
Ink and Toner Cartridge Supply eStore Inksters of America is celebrating its 17th anniversary as an OEM seller of alternative imaging supplies and remanufactured and generic replacement printing supplies.
Greenwood, USA – August 25, 2021 / PressCable / –
Greenwood, SC, Inksters of America eStore Ink and Toner Supply announced the celebration of its 15th anniversary. The business is a nationwide supplier of remanufactured and generic replacement inkjet and laser toner cartridges and other printing consumables.
For more information on Inksters of America, please visit https://www.inkstersink.com
The online shop for inkjet printer accessories is celebrating its 17th anniversary as a retailer of printing accessories for private and corporate customers. The company's focus on the environmental impact of disposing of printing supplies has resulted in continued efforts to encourage the purchase and use of remanufactured and recycled products.
Inksters of America supplies printing supplies that meet global quality standards and offer customers sustainable savings of 40 to 80 percent. The eStore for alternative accessories for OEM imaging accessories offers intuitive product search and free shipping for qualified orders, backed by responsive customer support. These products are backed by the company's rigorous product research and testing, as well as full satisfaction and quality guarantees.
Over the past 17 years, Inksters of America has grown into an industry leader, becoming the first retailer to offer multiple new product releases. The company's manufacturing division produces color laser toner cartridges, inkjet printers, ink pens, MICR toner cartridges, thermal transfer products, and other reliable and inexpensive imaging materials.
A spokesman for Greenwood, SC Printing Supplies manufacturer, said, "We thank the Inksters of America team and our customers who have supported us at every stage of our journey so far. We look forward to many more decades in which we can offer our customers in the USA and Canada environmentally friendly products and processes. "
Inksters of America is an online store selling new and remanufactured printing materials such as inks, toners, cartridges, ribbons, rolls, and other printing hardware. For more information, please call 864-388-9393 and the URL above.
Contact information:
Name: Scott Newman
Email: Send an email
Organization: Inksters of America, Inc.
Address: 720 Montague Ave. Suite 222, Greenwood, SC 29649, USA
Website: http://inkstersOfAmerica.com
Source: PressCable
Approval ID: 89041087