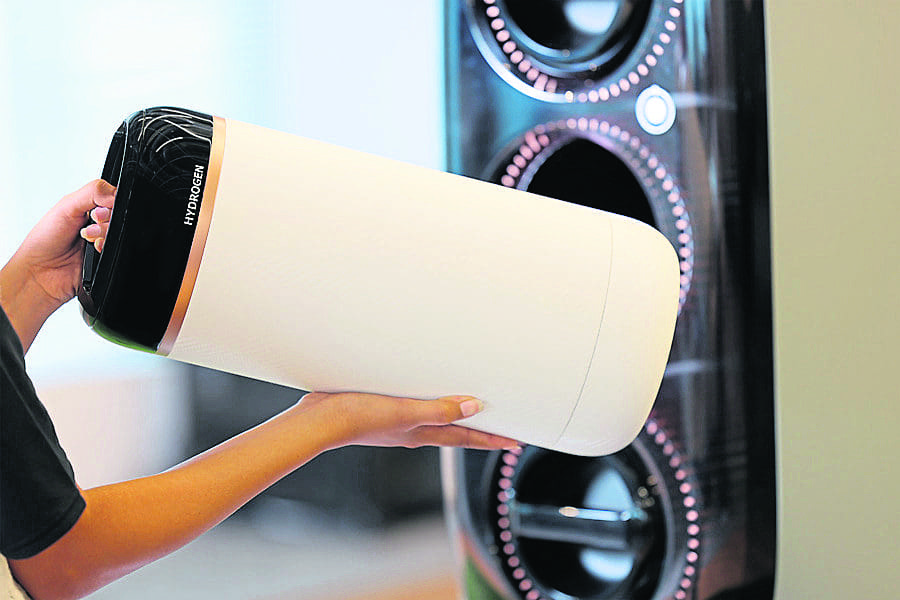 Hydrogen – Toyota's replacement solution?
Could Toyota's clever hydrogen technology pave the way for the future of motorcycling?
The Japanese car giant has found a way to safely use hydrogen as a fuel – and this could be the start of the next wave of clean, green vehicles hitting the road.
For years, the motorcycle industry has speculated that hydrogen, as a greener and more efficient alternative to electric, could be a big part of our green future. It is attractive for several reasons, but primarily because of its versatility. It can either be converted directly into electricity with a fuel cell stack or burned in a similar way to gasoline in more conventional internal combustion engines. But there is a problem. To make it portable enough to carry on a bike or car, hydrogen must be stored at an extremely high pressure (between 5,000 and 10,000 psi). And the need for such high pressures means filling a hydrogen tank is much more difficult than filling a gas tank or charging a battery.
Thankfully, Toyota reckons it has found a solution. Developed by subsidiary Woven Planet in collaboration with energy company ENEOS, they found that it's much easier and safer to make replaceable cartridges that you simply swap out for a new one using a tank that you fill up. The hydrogen is running out. The depleted ones are sent away to be replenished and the cycle continues.
It might not sound particularly groundbreaking, it's just some hydrogen in a tank, right…? That doesn't matter because Toyota actually created a working prototype for technology. It is essentially a 40 x 18cm canister that weighs 5kg when full and is capable of generating 3.3kWh of electricity. For reference, a 3.3kWh Li-Ion battery pack is a similar size but weighs about 25kg more. That's a big, big difference.
The system will be used in Toyota's Woven City – an actual city being built on a 175-hectare site at the foot of Mount Fuji. Hydrogen will be the main fuel source for the city, used in bicycles, cars and even homes. Amazing stuff, right?
Of course, bicycle manufacturers have been working on their own hydrogen solutions for years. Honda already had a fuel cell scooter in 2004; Yamaha and Kawasaki recently joined forces to work on a hydrogen powered engine based on the supercharged H2 engine; and Suzuki's even field-tested hydrogen-powered Burgman scooters at the Metropolitan Police in London. But until now we haven't seen anything concrete from them.
With the leaps Toyota is making, it's reasonable to assume we won't have to wait too long for hydrogen-producing bikes – and who knows, maybe they'll come with hydrogen canisters, too.
#toyota #hydrogen #motorcycles #morebikes #electric bikes #electric motorcycles
Recent Posts by Mark Lancaster
(See everything)
---
---
Get MoreBikes delivered to your mailbox every month. 12 issues for £15. Click here for more information.
---
Get updates from MoreBikes.co.uk
Enter your email address below and you'll receive bike news straight to your inbox…

You can unsubscribe at any time.
---